Orson Welles' THE MAGNIFICENT AMBERSONS: A Poem of the Ephemeral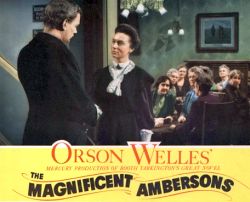 By KYP HARNESS
Finally released last month on DVD to little fanfare, having been unavailable for 20 years in its country of origin, Orson Welles's The Magnificent Ambersons is surrounded by a mythology which makes it difficult to assess as a film. The famous follow-up to Citizen Kane, it was re-edited and added to without Welles' consent and so has become a symbol of the establishment sabotaging the artist, and the monument to Welles' ruination in Hollywood.  A veritable legend has grown around the footage excised from the film – a 2002 Vanity Fair article speculated that it might be in Brazil; a 2011 article in Notebook, a digital magazine, whimsically speculated that it might be buried beneath a police station in Miami.
Even with its imperfections and the notoriety surrounding it, perhaps The Magnificent Ambersons greatest tragedy is that it has not been assessed for the film it is. And that is: a masterpiece which is at least the equal of Citizen Kane and just as audacious. Citizen Kane has worn the heavy mantle of being regarded as the 'best film ever made' for seventy years and it certainly has much to recommend it – the technical breakthroughs of deep focus photography, overlapping dialogue, the audacious camera placement and movement, the tour de force of the performances and the writing.
As responsible for its classic status as all of these, and perhaps more, is the enduring archetype at its center, the myth and legend it depicts which is uniquely 20th century, uniquely (North) American: a man of power who embodies his times and in so doing makes himself into an inhuman monster. Such a narrative is instinctively familiar to anyone in our culture who has imbibed the reality of a Hearst, a Conrad Black, an Elvis Presley, a Michael Jackson, or an O.J. Simpson.  In Charles Foster Kane, Welles and screenwriter Herman Mankiewicz created an embodiment of this archetype which now rivals its first articulation: F. Scott Fitzgerald's The Great Gatsby. Like Kane and all the rest, Gatsby strove for the power and wealth which society is in thrall to, and through them, he sought love: to love and be loved.  But such is the price society demands for the favors it confers that the non-meek inherit not love but more power and its inevitable result: alienation and death.  The promise of society is that by sacrificing one's humanity one can achieve humanity's greatest, most essential expression. That this promise is an illogical impossibility is confirmed with clock-like regularity by the flame-outs of the best and brightest and the wealthiest among us.  They are the ones who achieve the dream society goads us all to achieve and then it kills them.  It's an invitation to see how empty the goals that govern society are – how deforming and poisonous.
There is a deeper meaning to Citizen Kane, which comments even upon itself as a work of art.   We don't ultimately know why Kane makes the choices that he does, why he devolves into an inhuman robot, becoming a dome-headed automaton destroying his own house in impotent fury.  The "Rosebud" muttered as his dying word at the beginning, and revealed as the name of his boyhood sled at the end, gives the film a symmetry of form, but it provides no meaning; as Welles stated, it was merely a "MacGuffin", something to hang the film on. The inference that Kane's self-destruction stems from the wound of his childhood that the sled represents is a little too pat.   That as a boy he is essentially raised by a bank says a little more: he is a creation of materialism, and lives only by material law.  But neither does this explain Kane's complete dehumanization and demise.
The merry gusto with which the young Kane creates his newspaper is undercut by the fact that he is cheerily unable to accept as real the principles the paper is supposed to be animated by: to him they are merely enabling props of power.  He has no basis within him to recognize the meaning of these principles.  Just as when he gladly sacrifices his wife and child to spite a political rival – and the morals of society – he has no comprehension of the meaning of love or loyalty.  But this isn't enough: he is driven also to prove to the world that there is no eternal truth, no meaning: he tries to convince the world that his second wife is a talented opera singer, and when his 'conscience' Jed Leland, the dramatic arts critic for his paper, writes half a damning review before passing out in drunken disgust, Kane completes the review, eviscerating his wife's performance – then summarily fires Leland.  In completing the review, Kane denies even the reality in which his lie can be looked on as a lie.   He seeks to prove that there is no integrity, no quality, no truth.  There is no meaning except what he can impose with his power.
Finally the truth cracks him like a walnut, as it always does.  But like the myriad of talking heads, or even the narrator of the newsreels at the beginning of the film, we don't know why Kane deformed himself so terribly or why he was so diseased to begin with.  If  Welles stated that the 'solution' proffered by the film, 'Rosebud', was a necessarily meaningless plot device used for form, we can say that the film Citizen Kane is a production of Kane's mentality – that there is no meaning, that, as the multiple voices relate, a human being is composed of several layers of skin, which when pulled back, reveal nothing at all.  The truly explanatory image at the end of the film is not the sled burning in the fire but the smoke rising from the fire, Kane's kingdom wafting in the air.  Human beings melt to nothingness, unexplained and unexplainable, since to explain would presume that there was any meaning to their being here at all – whatever "being here" means.  Citizen Kane is a dazzling display of artistry, technique, craft and invention, like Kane's Xanadu, all emanating from and artfully decorating the fact that all is nothingness and everything is meaningless.
The Magnificent Ambersons, Welles's follow-up film to Citizen Kane is different in manner.  Based on the Pulitzer Prize-winning 1918 novel by Booth Tarkington, it has all the technical bravura with which Citizen Kane so lovingly adorns its heart of nothingness, yet it employs it in a more utilitarian manner:  nothing leaps out like dizzying crane shots and low vantage points of the earlier film.  The filmmaking skill is more artfully, modestly deployed.  In this, Welles allows form to match content: Citizen Kane in it's grandiose showmanship allows for a style in which all the technical stops are pulled, while the fading family of the Ambersons has its tale told in tones that are lyrical and elegiac, with a faint but growing aroma of decay.
In Citizen Kane, Welles portrayed the title role himself, making it impossible to disentangle the wunderkind of the film who created a whole world for himself from the wunderkind who created the world within the film. In The Magnificent Ambersons he retreats behind the curtain and gives himself the role of narrator, arguably giving a better performance in this function.  Tim Holt, who gave most of his performances in cowboy films, plays the lead, George Amberson Minafer, one of the most pompous, petulant, self-righteous, humorless, dis-likeable prigs ever featured at the center of a film. Joseph Cotten, who was Jed Leland, the 'conscience' of Charles Foster Kane, is here as Eugene, the gentlemanly, magnanimous inventor of automobiles who rings the death knell for the Ambersons, in a role which allows him much more range and subtlety.  Ray Collins, who was Boss Gettys, Kane's political rival, is also allowed more dimension here as Uncle Jack Amberson, the rueful, sensible face of the Ambersons.  Richard Bennett and Dolores Costello were silent film stars brought back by Welles to play the Amberson father and daughter.  Agnes Moorehead is Aunt Fannie Minafer, giving one of the most hide-flailing performances ever seen.
The actors are mentioned because Ambersons is an actors' film in a way that Citizen Kane is not.  The story is an interplay of personalities, and each of the performances are in their way superlative.  Here the audacity of style is seen in an extended shot in which Holt, Moorhead and Collins play out a naturalistic late night conversation which rises to an emotional crescendo: the young man and the uncle good naturedly tease the aunt about the romantic intentions of   Eugene , and both are surprised when her pained, tearful reaction reveals the depth of her feelings. It is in such great, emotionally-driven scenes, portrayed with watchful elegance that The Magnificent Ambersons has its greatness; the film is a succession of such scenes.
The dis-likeable lead, George is the scion of a wealthy family; his widowed mother is romanced by Eugene, the inventor of an automobile whose success changes the town and the Ambersons.  George is outraged by the presumption of anyone romancing his mother: he forbids her to see Eugene and takes her on an extended round-the-world trip, during which she fades – and after arriving home, she dies. George's disapproval of his mother's relationship with Eugene is inseparable from his disdain for Eugene's 'new money' status and its implicit rejection of the life of aristocratic privilege he has enjoyed.  Further, Eugene 's automobile business signifies another aspect of the modernity George fears. In his fear of progress, of change, in his panicked refusal to acknowledge his mother's romantic needs, George ruins the life of everyone around him, as well as his own – and kills the very one he hopes most to preserve.
The forces of modernity, though represented by the altogether more affable Eugene , are not portrayed as being entirely positive, either.  As Eugene notes, it is possible that the automobile is actually a step backward in civilization, and later as the automobile has its way with the world, the narrator tells us that the town 'befouled itself' with its resultant sprawl and smog.  We are presented with the indomitable face of progress with all its unintended consequences, and the corollary panic of the reactionary, with its sickness and death-dealing perversity. The film observes these extremities with magnanimous compassion, without judgment; and here in Welles' poem of the ephemeral, it is telling that the two characters who pass on, exemplifying the fading Ambersons, are played by former silent film stars, specially sought out by Welles, who themselves are representatives of times past, casualties of progress.
Subsequent viewings reveal an even deeper, more modern insight:  for George, in his panicked refusal of a world changing around him, of change itself, kills his mother with the sick love they share. In this, George and his mother also destroy the lives of Eugene and his daughter, who is in love with George.  George pulls his mother deeper into death; when they return from their trip she is seen shrouded in shadows.  When Eugene tries to talk with his daughter about her aborted relationship with George, she responds obliquely with a supposed Indian myth explaining a name for a local landmark: a tribe that was persecuted by one of their own who walked over their faces with large iron boots.  They exiled him, yet still longed for the power of his personality.  It is the response of anyone who has had their lives ruined at the hands of a dysfunctional, emotionally ill person whom they still love.  The Magnificent Ambersons has much to say about the effects of a damaged psyche on the ones around it.
It is the context of the depiction of the apparently depth-less tragedy, that results from spiritual sickness that the ending, through stylistically jarring with the rest of the film, is appropriate: we've seen George receive his comeuppance, seen him shamed and brought to his knees in repentance.  He is then struck by one of the dreaded automobiles, and after visiting him with Aunt Fanny it is fitting that Eugene should vow to take care of him, loving his departed "one true love"  through her son.  Though the sequence was filmed and tacked on to replace the more tragic ending Welles intended, and looks as though it was shot on the set of a 1950's medical drama, it affirms a simple, tenacious honor in response to the emotionally unwell at every side, to the perilous onslaught of progress, the deathly lure of stasis and decay (it was also closer to the original ending in Tarkington's novel).  We will never know if Welles' original, missing ending was more artistically potent, but having seen the uncompromised depths of misery to which George and Aunt Fanny sink because of their actions, the transcendence and redemption offered by Eugene are welcome, however ill-photographed.
Aside from this tacked-on sequence, The Magnificent Ambersons unveils its profundities in stately, elegant images as beautiful as any found in films.  Where Citizen Kane is a depiction of nihilism and non-existence, The Magnificent  Ambersons sees the river of feeling, the torment of an existence melting like a snowflake, all the while besieged by the past and the future. Its fading world is our world, its credo is in the opening narration, when it describes the manner by which a streetcar would wait for its passengers in bygone times, observing that such a leisurely nicety would never happen today: "Too slow for us nowadays, because the faster we're carried the less time we have to spare."
~~~~~~~~~~~~~~~~~~~~~~~~~~~
Kyp Harness is a singer and songwriter who has put out eight independent albums, had his songs covered by Ron Sexsmith and Mary Margaret O'Hara, and has opened for Elvis Costello and shared the stage with Townes Van Zandt.  Record producer Daniel Lanois has called him a "great writer" and Exclaim magazine has stated that, "Harness has created a songbook that should rightly be regarded as a national treasure."
His ninth album is entitled Resurrection Gold.  Mr. Harness has also authored two books published by McFarland publishers: The Art of Laurel and Hardy (2006) and The Art of Charlie Chaplin (2007).
The Magnificent Ambersons is his favorite film.
You can visit his website at:
~~~~~~~~~


Tags: orson-welles