The Memos Part V – Joseph Cotten to Orson Welles: 'Ambersons is a dark sort of movie …and at the end there is definitely a feeling of dissatisfaction.'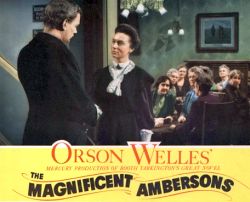 By LAWRENCE FRENCH
Although Welles still wanted to finish the editing on AMBERSONS by having Robert Wise come to Rio, he also began sending a detailed list of changes he wanted made to the film, only two days after receiving this cable from Jack Moss assuring him that "every effort" was being made for Robert Wise to join Welles in Rio.
JACK MOSS TO ORSON WELLES:
March 25, 1942
Dear Orson:
Every effort being made to secure immediate passage for Bob. We all agree your decisions on AMBERSONS dependent upon actual work with actual film.
Jack
*
ORSON WELLES TO JACK MOSS:
March 27, 1942
This is a preliminary list of AMBERSON cuts.  Details follow tomorrow morning.
Welles then lists many of the changes he thought would improve the film's audience acceptance, giving extensive instructions for scenes to be re-shot, re-dubbed, or re-edited.  It's important to realize that many of the suggestions Welles was making were just that, suggestions, or as he notes, "experimental."  Since he couldn't actually see the results of how the changes he was suggesting would actually play, it was very difficult for him to know if they would work or not. Hence the many possible versions he presented for his changes.
Welles largest cut in the film was still the deletion of all the scenes related to George and Isabel's European trip, which he had ordered cut before the Pomona preview, and which Robert Wise argued against as too big and too radical a cut to make.
Since Welles changes are very precise and relate to many scenes that are no longer in the film, as we know it, I have placed the entire text of his cable after the break.

*

In the meantime, George Schaefer was coming under tremendous pressure from the RKO board in New York to turn RKO's expensive prestige pictures into money makers, including Welles's currently filming project, IT'S ALL TRUE. Phil Reisman wrote to Welles, alerting him that Schaefer's support on the RKO board was beginning to crumble,  just as Schaefer himself would write to Welles, only a few days later.
PHIL REISMAN TO ORSON WELLES (excerpt) :
March 28, 1942
...BE SURE AND LEAVE HIM (George Schaefer) A REASONABLE OUT, AS CONFIDENTIALLY HE HAS HAD TERRIFIC PROBLEMS WITH BOARD AND I MEAN TERRIFIC.
*
In what must have been the unkindest cut of all to Welles, his close friend Joseph Cotten was swayed enough by the negative Pomona preview to write this conflicted letter to Welles, detailing his own thoughts about the changes that he felt were needed to make AMBERSONS into a "wonderful, beautiful, inspiring picture."

JOESPH COTTEN TO ORSON WELLES (excerpts):
March 28, 1942
Dear Orson:
In cases such as this great difference of opinion in the editing and cutting of AMBERSONS, people usually say "nothing personal, of course" as an excuse to say whatever they think. In my case, I have no business interest in AMBERSONS, Mercury or you; but a great personal feeling about all three, especially you, and whatever I say I know you will take in a personal way, and I want you to.
I have often been wrong in discussing scripts and plots with you, and I agree that I'm wanting in intellectual concept and understanding of art. I do, however, have a reliable instinct, and as often as I have been wrong about actual ideas, I have been right about audience reactions. I also know by now just about what your reaction to audiences is, and I am writing this to you because I know you would have been far from happy with the feeling in the theater during the showing last week. The moment the temporary title was flashed on the screen THE MAGNIFICENT AMBERSONS, a Mercury production by Orson Welles, there was a wonderful murmur of happy anticipation, which was warming and delightful to hear and feel.  And the first sound of your voice was greeted with applause. Certainly I was fair in assuming at this point that the audience was with us. Then something happened…  it happened gradually and awfully and the feeling in that theater became disinterested, almost hostile and as cold as that ice-house they had just seen and my heart as heavy as the heart of Major Amberson who was playing wonderful scenes that nobody cared about.
You have written doubtless the most faithful adaptation any book has ever had, and when I had finished reading it I had the same feeling I had when I read the book.  When you read it, I had that same reaction only stronger. The picture on the screen seems to mean something else. It is filled with some deep though vague psychological significance that I think you never meant it to have. Dramatically, it is like a play full of wonderful, strong second acts all coming down on the same curtain line, all proving the same tragic point.  Then suddenly someone appears on the apron and says the play is over without there having been enacted a concluding third act.  ...It is a dark sort of movie, more Chekhov than Tarkington... The emotional impact in the script seems to have lost itself somewhere in the cold visual beauty before us and at the end there is definitely a feeling of dissatisfaction… chiefly, I believe, because we have seen something that should have been no less that great. And it can be great, I'm sure of that. It's all there, in my opinion, with some transpositions, revisions and some points made clearer… points relating to human relations, I mean.
…Our cables that fly back and forth, I know, present everything in a very unsatisfactory manner.  They often must be misinterpreted at both ends.  Jack, I know, is doing all he can.  He is trying his best to get Bob Wise to you.  His opinions about the cuts, right or wrong, I know are the results of sincere, thoughtful, harassed days, nights, Sundays, holidays. Nobody in the Mercury is trying in any way to take advantage of your absence.  Nobody anywhere thinks you haven't made a wonderful, beautiful, inspiring picture. Everybody in the Mercury is on your side always. I miss you horribly and will be a happier soul when you return.
We all love you… and until then remain forever, as all of us do,
Obediently yours,
Jo
*
ORSON WELLES TO JACK MOSS (edited for clarity):
March 27, 1942
This is a preliminary list of AMBERSON cuts.  Details follow tomorrow morning.
After this:
FULL SHOT: The ballroom following Tim's line "A Yachtsman"
Instead of dissolve to Joe and Dolores waltzing, half fade out, half dissolve to stable scene, same timing going out of ballroom as before, same timing coming into stable as before.
Also:
Try starting scene as same line on Wilbur.
CLOSE SHOT of Tim walking in.
Also:
On same line try FADING IN as door opens throwing light on Tim and Dolores; they look at camera left at end of WALKING SHOT, in half.
I will say this again for clarity and color: Joe blows out light on black screen.
FADE IN on second floor of mansion on Tim's line "Look here, Father, about this man Morgan" and so on, through remainder of scene, fading out with same timing as present. Dissolve as Tim walks up half laughing after Jack goes back into his room.
In other words:
This eliminates the full late night sequence on first floor and also the exterior of mansion with automobile,   TWO SHOT where Tim, Dolores walk along dark hall from stairway to Wilbur's room. This cuts nothing which promotes story or reveals character where not otherwise revealed.
FADE IN: REFLECTION SHOT, same timing as before. Cut the next two shots.
Go from REFLECTION to SCENE SIXTEEN, the camera under auto
Then:
Continue snow sequence as before, finishing as before, except instead of irising down and out, half fade out half dissolve to next scene.
Next scene is SCENE ONE - Reel Three: Auto coming towards us, smoke
Music on to George and Lucy in buggy as before.
Play through the George and Lucy scene to Major and Jack, trimming last few frames on the crane shot so Major's buggy does not start out of frame, before we cut inside.
Suggest trying very fast lap to:
Interior of Major's Buggy. Play through Major and Jack's scene which is vital to picture.
FADE OUT at end of the scene:
FADE IN to:
Beginning of funeral scene. Door of mansion with crepe. Or if music works well for it, make transition half fade out, half dissolve. Placing funeral here makes it less arbitrary and gives it slight angle. Another advantage is beautiful time transition from horseless carriage in snow and early automobile on street.
From end of funeral, FULL SHOT, try going to:
"Wilbur Minafer—Quiet man—The town will hardly know he's gone."
Remake this as TWO SHOT against back of flowers to match the interior of library.
Phone me to get correct reading for line.
Following suggestion experimental:
Try going from TWO SHOT of citizens to choker of Fanny, then half fade out, half dissolve from Fanny's face to a night MATTE SHOT of mansion in rain,  then:
DISSOLVE into kitchen...
Starting kitchen scene as before.
Also try alternate start of kitchen scene on Fanny's line:
"So Eugene came to the station to meet you."
In any event the diploma insert and music are definitely cut.
Also definite cut is the fadeout of kitchen scene on Jack's line:
"I really don't know of anything much Fanny has got except her feeling about Eugene."
FADEOUT just before Tim reacts to houses outside.
Fadeout is half fade out, half dissolve.
Goes from here to the first porch sequence:
Cut establishing shot. Come in on porch scene to carry maximum possible pause before Fanny's line:
"Are you laughing about something."
Play the porch scene through Fanny's exit and
"The very anniversary of Wilbur's death."
Then:
CLOSEUP of Tim leaning against railing starting off, before full SHOT, including Lucy's vision
DISSOLVE TO:
Day Sequence SCENE ONE - Reel four: EXTERIOR MANSION:
Eugene and Isabel, then play through to end of Jack and George in bathroom scene as in present version,  making only the following short cut:
Scene thirty-seven, Reel four - cut George's line beginning with:
"Then it would be monstrous in the face of all this."
In other words cut from:
"What's the matter with their marrying"
To:
"Oh, that you can sit there and speak of it."
FADE OUT on the slamming door, timing as in present version.
FADE IN - SCENE THREE, Reel four:
Exterior of Eugene entering in car.
This cuts George's entrance in parlor, unwrapping of picture and his sitting down before window.
Tone down big rise up in music over vestibule setup, otherwise continuing unchanged through Fanny's line:
"Let her alone."
FADE OUT at end Reel four.
Very slow FADE IN.
Following is new scene:
Interior of Eugene's house. Desk near window. Late afternoon – backlight.
TIGHT SHOT of Joe writing almost in silhouette. Sound of pen as he signs name, then puts down pen and  looks back to top of page, as he reads to himself, his lips not moving, his voice reading the letter is heard on soundtrack with music, as in present letter sequence.
New text of letter as follows:
EUGENE:
Yesterday I thought the time had come when I could ask you to marry me, and you were dear enough to tell me sometime it might come to that. But now we come to this dear—Will you live your own life your way or George's way?  Oh, Dearest woman in the world, I know what your son is to you and it frightens me. Dear, it breaks my heart for you but what you have to oppose now is the history of your own selfless and perfect motherhood. Are you strong enough, Isabel? Can you make the fight?"
Now a cut or quick DISSOLVE to to Isabel seated as she looks up from letter then rises. Here is added line for Eugene's narration for this place:
"I know you aren't quite well dear— But...."
Then go on with letter:
"I promise you that if you will take heart for it.."  and so on through:
DISSOLVE TO:
George. Then play through George entering Isabel's room, including the new scene where he finds her unconscious which should be terrific if camera is in close enough and moving with him as he drops to feet and takes her in his arms for the fade out.
Again emphasize the tremendous importance that this shot be beautifully done—music very strong.
FADE OUT
FADE IN on Interior Hall - REEL FIVE – The Family waiting outside Isabel's room.
Play through until just before Fanny's entrance.
Then:
CUT or QUICK DISSOLVE to SCENE ONE - REEL SIX:
Silhouette of Eugene waiting downstairs. If possible repeat frames before Fanny's entrance to lengthen pause. This cuts the scene between Fanny and George about whether Eugene should be allowed to see Isabel.
Play through from Fanny and Eugene's scene to and including the Major's death scene, with these dialogue changes in offstage voices read over the Major's face:
Jack's speech should read:
"I am only glad you didn't put as much money in it as I did."
Instead of:  "Go into the confounded thing to the extent I did."
Jack's next line should read:
"Our headlight just won't work, Fanny. We should have taken Gene's advice."
Instead of:  "It certainly was a perfect thing in the shop. Well, our headlight just won't work, Fanny."
George's off stage lines to Grandfather:
"Did you want anything?"  and  "Would you like a glass of water?"  are spoken too sharply and pronounced too carefully. Effect is unpleasant. Remake.
Also:
Off stage voices in this sequence all slightly too high.
I will repeat for clarity:
The entire Isabel death sequence stands as in present version.
Dialogue between George and Fanny is only cut between fade in of hall scene and fade out of Major's death.
All Cemetery Scenes are cut, so use footage allowed for in music to hold over on flickering low key image of Major's face and screen going black, just as death music finishes.
Narration here and also throughout entire picture slightly too low; consonants and sibillants too sharp.
This must be filtered out. Also music sometimes fights me.
Following Major's death scene,
FADE IN
Railway Scene as in present version, only conductor must be calling trains over dark screen, continuing as we fade in and on through until first finish of effect as already laid out in track.
General station sounds should be slightly higher at very start of scene.
The Railway Scene uncut.
FADE OUT at end.
FADE IN:
Lucy and Eugene in Garden Scene.
Play through but sneak out music under Lucy's line:
"Rides down everything."
Build in blank spots. Bird calls and rustle of breeze in trees.
FADE OUT at end of scene, the same timing as present dissolve.
Then QUICK FADE IN to Kitchen Scene as Fanny falls to floor.
"You want to leave me in the lurch."
Same timing as present version. Play through Fanny and George scene, and George Bronson scene as in present version, with only the addition of this line for secretary:
"Mister Minafer."
As door opens on dissolve into office, line this fading up with fade in.
FADE OUT at end of Bronson office.
FADE IN on walking home sequence.
Image stays too long in clear on words:
NARRATOR
"It befouled itself and darkened its sky."
The flat side of building is dull and meaningless. Also iron picket fence looks new. Should be very broken down, even nonexistent. Last image in this sequence should be the sign reading:
INSERT: NEW HOPE APARTMENTS
Hold on this longer.
FADE OUT
Definitely cut the MATTE SHOT in front of the mansion.
If necessary cut these lines:
NARRATOR
"Tonight would be the last night that he and Fanny were to spend in die house which the Major had forgotten to deed to Isabel."
And the narration reading:
"And the big old house at the foot of Amberson Boulevard—Tomorrow they were to move out and so on....."
Rest of sequence plays through as in present version.
After the Narrator's lines:
"Faint cry over and over...."
Take longer pause before George's line:
"Mother, forgive me. God, forgive me."
On Narrator's lines:
"Came at last."
Music should have sneaked down and almost faded out, returning to level of present version under the words:
"Those who had so longed for it."
FADE OUT as in present version, then slight pause.
Then continue with narration I sent to you last week, without music and on black screen play the narration through to finish after last words of this:
"By an automobile."
FADE IN on Eugene's car coming to stop in front of the boarding house.
Then play boarding house scene through as in present version. Only change necessary here is comic record. Norman sounds too legitimate. Get Ray to play straight man, who should sound like tight voiced vaudevillian.
As Wise says in letter, the final FADEOUT should be slowed with traffic effects. It's better.
As to credits, these must be done in plaque style. One half plaque style or negative effect. Indeed, any effect but straight cuts as in present version. If no photographic tricks satisfactory, suggest pen and ink drawings in somewhat simplified Gibson style, white lines on black field or some such vague, pleasant stylish effect. Very worried about visual problem with end titles, but theory seems to work.
Opening title, Mercury Productions, should be as set by me before leaving, similar to KANE.
*

Tags: orson-welles