The Memos Part XI: 'The Magnificent Ambersons' opens in Los Angeles running only 88 minutes; Welles completes 'It's All True' in Brazil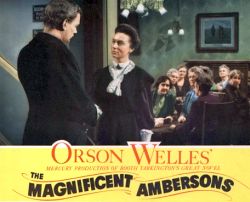 By LAWRENCE FRENCH
'The Magnificent Ambersons' opens in Los Angeles - July 7, 1942
Even in it's truncated version, THE MAGNIFICENT AMBERSONS received many excellent reviews and eventually was nominated for four Academy Awards, including Best Picture, Best Supporting Actress (Agnes Moorehead); Best Cinematography (Stanley Cortez); and Best Art Decoration. Certainly not an easy task for a film that was released in July of the awards year. And despite a widely perceived notion that the film was dumped without fanfare by RKO, this was not entirely the case. At least initially, RKO gave AMBERSONS an impressive campaign, with full page ads appearing in many national publications, such as LIFE and LOOK. In fact, according to Joseph McBride, AMBERSONS box-office returns for many major cities boded very well for the films prospects. "It was holding up beyond expectations in LA, doing sensationally in San Francisco, nice in New York and Baltimore, good in Denver and Omaha, and not bad in Boston and Philly." (as reported in 1942 by Variety).

Eventually, however the film's high budget (around $1,000,000. – before the $100,000. in additional costs entailed by all the retakes), would be it's undoing, and RKO posted a loss of over $600,000. on the film. However, if looked at from a different perspective, the film actually made over $500,000.  That means it did fairly well for the time, since at any cost it was going to be a rather difficult picture to market. In fact, if the film had been made for it's original budget of $850,000. it might even have come close to breaking even. It's also important to realize, that at the time, no RKO film budgeted over $1,000,000 (which was extremely steep for 1942), had ever made a profit for the studio.
Although RKO's new head of production, Charles Koerner's prime objective was to get rid of Orson Welles, he was certainly not foolish enough to simply dump AMBERSONS on the market, although he clearly had no great interest in throwing more money on it's promotion after it faltered. Likewise, he and the other new bosses at RKO were undoubtedly willing to at least see if the IT'S ALL TRUE footage could be made into a finished film. However, this early report shows why RKO was so willing to write off IT'S ALL TRUE as a tax loss, even though they had spent over $500.000. making it, and still could have recouped $300,000. more from the U.S. government, if they had only finished and released the film. Apparently, it was worth far more to the new heads of RKO to get rid of Orson Welles, who was the only one who could possibly finish the film, then it was to keep him at the studio.
WILLIAM GORDON TO CHARLES KOERNER (excerpt):
July 9, 1942
It appears that the indiscriminate mingling of blacks and whites in the Welles Brazilian film will be found objectionable south of the Mason-Dixon line in the United States and in a good many countries of Latin America. It is my studied opinion that the carnival film will propagate a contrary view which is apt to be greatly resented by those other countries.
*

THE NEW YORK TIMES -  WELLES VERSUS HOLLYWOOD AGAIN
July 12, 1942
By Thomas F. Brady
The saga of Orson Welles's Mercury Productions reached a momentary impasse at mid-week when Mr. Welles henchmen, asked to leave the RKO premises by Charles Koerner, new head of the studio, established an embattled position in the Hollywood hills north of the Trocadero night club to await the return of their leader from Brazil this month. Herbert Drake, Mercury vice president and publicity director, characterized their position as that of "Leonardo da Vlnci evicted from a draughty garret."
Events behind the Mercury-RKO dispute involve the recent change in RKO management, in which Koerner replaced Joseph Breen as head of the studio and Ned Depinet supplanted George Schaefer as president of the company. After extended bickering over the exploitation of Mercury's "The Magnificent Ambersons" and the editing of Mercury's "Journey Into Fear," both of which will be released by RKO, Koerner took the Mercury staff off the payroll and asked them to vacate their offices in twenty-four hours.
Forty-eight hours later Jack Moss, Welles's partner, Drake and five secretaries left the lot, taking with them the Mercury files, a mimeograph machine and a few other "meager" possessions. The paraphernalia was transported to a workshop at the rear of Drake's home in the Hollywood hills, and a telephone with a long cord was brought out into the back garden so that a faithful henchwoman can sit on the grass and answer "Mercury Productions" whenever it rings.
Mercury triumphed in one detail, however, according to Drake's account. Welles's steam room, in which all  Mercury conferences were held, had long been the envy of certain RKO executives. But they were jealously barred from using it. The steam outlet had been fashioned of bronze, at Mercury's expense—material no longer available because of the war. And so the evacuees took the fittings with them when they left. When the RKO-Pathe studio manager repaired to the empty Mercury quarters to enjoy a steam bath at last, he was horribly unhappy to find it inoperative, Drake said.
Since Mercury has only $200 in the bank, according to Drake, the faithful employees are working without salary, but they are counting on Welles's return to take care of everything. Statements have been issued by Koerner and by Loyd Wrlght, Welles's attorney, presenting their conflicting points of view in measured terms, and both sides have carefully avoided the words "breach of contract." But Hollywood is hopefully awaiting the fireworks which are regarded as inevitable when Welles himself gets home.
Welles's only personal contribution to the immediate fracas was a slogan he enunciated by long distance telephone. "Don't worry, boys," he told his staff; "we're just passing a bad Koerner." RKO's sole worth-while rejoinder to date has been: "All's well that ends Welles."
*
With a new regime in charge of RKO, Welles apparently was in no rush to return to the United States, as after he finished shooting on IT'S ALL TRUE, he spent nearly a month traveling through South and Central American until he returned to New York on August 22, shortly after THE MAGNIFICENT AMBERSONS opened on Broadway at the Capitol Theater.
July 14, 1942 Welles leaves Fortaleza for shooting in Recife, then a week later to film in Salvador.
July 16, 1942 Lynn Shores cables Phil Reisman saying, "Prompt action necessary your end to recall Welles to States. If in accord please apply all pressure and advise Coordinator's office or myself. "
July 19, 1942 Following the shoot in Salvador, Richard Wilson joins Betty Amster and Shifra Haran in Belem to return to the U.S. via Miami.
*
Lynn Shores placed notices in the major Rio newspapers stating that RKO Studios would assume no responsibility for any expenses in Brazil charged to them by Mr. Orson Welles, which he timed for Welles return to Rio. The authority for this action was officially given by RKO's Ross Hastings and Gordon Youngman, and was certainly approved by Charles Koerner, as it was sent to Shores immediately after George Schaefer's resignation took effect, on June 26. Ironically, by allowing Welles to continue filming with the FOUR MEN ON A RAFT episode before he resigned, George Schaefer made it possible for the world to see the reconstruction of the episode  in the version of IT'S ALL TRUE that was released by Paramount in 1993.

RIO NEWSPAPER ADVERTISEMENTS (DECLARACOES)
July 20, 1942
AVISO: RKO RADIO PICTURES, INC. estabelecida em Nova York, Estados Unidos da American do Norte, pela presente declara que nao assume nenhuma responsabilidade por qualquer alo praticado no Brasil pelo Sr. ORSON WELLES.
RKO RADIO PICTURES, INC established in New York, United States of America of the North, declares that it will no longer assume responsibility for any expenses in Brazil for Mr. ORSON WELLES.
Rio de Janeiro 20 de Jalho de 1942
Pela RKO RADIO PICTURES, INC.   —   LYNN SHORES
*
July 22, 1942 Welles returns to Rio de Janeiro.
July 27, 1942 Orson Welles leaves Rio and continues his tour through Latin America countries, including Peru, Bolivia, Ecuador and meets up with Dolores Del Rio in Mexico City.
*
In the mid sixties, after RKO had gone out of business, Welles had the idea to revisit The Magnificent Ambersons, re-shooting the ending with the same actors, but who would now appear to be older without the need for make-up.
PETER BOGDANOVICH: I read a newspaper interview with Jo Cotten recently in which he said you'd been planning to shoot a new ending to Ambersons, since the old one was destroyed.
ORSON WELLES: Yes, I had an outside chance to finish it again just a couple of years ago, but I couldn't swing it. The fellow who was going to buy the film for me disappeared from view. The idea was to take the actors who are still alive now — Cotten, Baxter, Moorehead, Holt — and do quite a new end to the movie, twenty years after. Maybe that way we could have got a new release and a large audience to see it for the first time.
You see, the basic intention was to portray a golden world — almost one of memory — and then show what it turns into. Having set up this dream town of the "good old days," the whole point was to show the automobile wrecking it — not only the family but the town. All this is out. What's left is only the first six reels. Then there's a kind of arbitrary bringing back down the curtain by a series of clumsy, quick devices. The bad, black world was supposed to be too much for people. My whole third act is lost because of all the hysterical tinkering that went on. And it was hysterical. Everybody they could find was cutting it...
PB: When did you record the narration?
OW: The night before I left for South America to begin It's All True. I went to the projection room at about four in the morning, did the whole thing, and then got on a plane and off to Rio — and the end of civilization as we know it...
Tags: orson-welles