The Mercury Theatre 'A Christmas Carol' radio shows available on Wellesnet this holiday season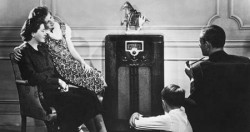 To celebrate the holiday season, Wellesnet is pleased to present streaming audio of The Mercury Theatre's 1938 and 1939 productions of Charles Dickens' classic "A Christmas Carol."
The 1938 broadcast features Orson Welles as Ebenezer Scrooge. The production co-stars Virginia Welles and Joseph Cotten. Welles serves as narrator of the 1939 radio show with Lionel Barrymore as Scrooge.
These vintage recordings, and other great moments from the Mercury Theatre, can be found online at www.mercurytheatre.info
The two shows will be available on Wellesnet through January 1. Click here to access "A Christmas Carol."
______
Post your comments on on Orson Welles' radio career at the Wellesnet Message Board.
Tags: orson-welles