The Trial
Missing Scene Shots: Page Two
Notes on the dialogue: As mentioned on the previous page, the dialogue comes from the script book published in English by Simon and Schuster in 1970. This dialogue came from Welles' script, as noted in the book, but the finished scene as presented does not match the dialogue in some cases. Presumably, Welles changed the order of some lines and may have added and removed other lines, so the pictures and dialogue don't always seem to match. Nevertheless, one will get an idea of the scene well enough from what is here.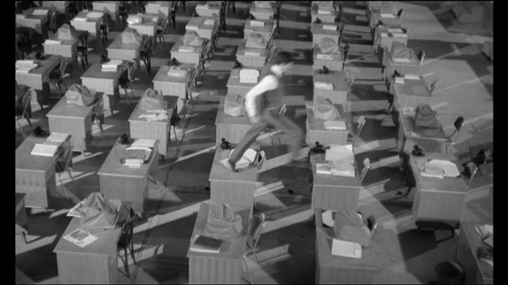 SCI: You still here?
K: You told me to wait.
SCI: after a short silence: I said you could if you wanted to.
K: You said you'd try to give me some help.
SCI: If... if you'd give us something to work with... Data.

K: I did. I wrote it all down for you, remember? First: the crime, or whatever it is, that I'm charged with --

SCI: There's no data on that. None at all. That's just a simple question.
K: - But everything depends on it---! My God, if an electronic brain can't tell me that --- I can't trust anything!

SCI: Oh!...We've got something for you.
K: About my case?
SCI: Don't confuse cybernetics with fortune telling...This is the best we can do with what you've fed us up to now.

K: I'd be grateful for anything --- anything at all. At least, about my Advocate --The SCIENTIST laughs. What's so amusing?
SCI: Advocacy isn't our province, either.
K: trying to be tactful: I see what you mean... Yes, I guess a Computer is more like a Judge --- The SCIENTIST laughs again, but K pursues his thesis. and wouldn't it be an improvement? No more stupid mistakes; everything clean and pure and precise. Instead of trying to be clever, like confidence men, the lawyers would just have to be accurate, like accountants. Or scientists... Imagine a court of law like a laboratory... Do you think it will ever come to that? Shall we ask her?
SCI: You wouldn't expect us to tell our own fortune, now would you?
K: You don't mean that the Computer wouldn't know?
SCI: She wouldn't tell.
The SCIENTIST pours some milk from a bottle into a saucer and puts it on the ground near the computer.
K: I... uh... hope that's for a cat...
SCI: Eh?
K: laughing nervously: That...offering. He smiles and pulls himself together as she raises towards him her aged, simian features. You people are always talking about "feeding her"... Of course, I was only trying to be funny.
SCI: interrupting: That's your trouble, K.
K: Trying to be funny? He feels at the end of his tether.
SCI: What you feed us: the data. It simply isn't enough. Linguistics --- that's your problem.
She takes off her overall. Later she takes a raincoat from a peg and puts it on.
K: You're not leaving?
SCI: The night shift's over...She looks at the brain. Now she rests.
K: But you did have something: you told me...
SCI: Oh, yes... She hands him a piece of paper.
K: looking at it: What's this?
SCI: The crime you're most likely to commit.
K: irritated and nervous:In the future? --- that sounds like fortune-telling to me...He looks at the paper. Just some dots...